After much deliberation, I have decided that this Sunday I am going to run a mock triathlon. This will allow me to not only see if I can survive such an ordeal, but provide me with a relative time frame for completing the actual event as well. Also it allows me to gauge just how horribly I will perform so I can prepare for the public humiliation I have set myself up to receive.
In preparation for this run I have set equivalent distances to the actual triathlon with a 10.4 mile bike route and a 3.2 mile running… jogging, probably walking route that centers around our current residence and my father in-law's house since that is where I will be doing the swimming portion (16 full laps = 200 yards).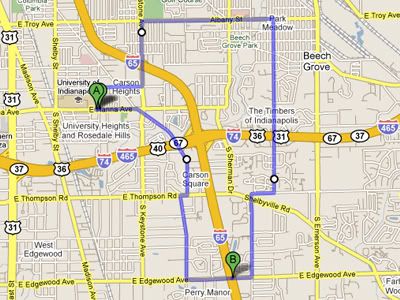 Knowing how long it takes me to complete a route that is comparable to the Cicero triathlon will give me an idea of what to expect when I run the real thing and it will help set a goal for the big day. My hope is that if I simply just set a goal of a time that I want to beat that I won't get caught up in trying to race the other participants and in the process make an even bigger fool of myself. Also, I have been told that you shouldn't push yourself too hard the week before a competition, so Sunday will be my final big push with the rest of the week being simple runs, bikes or swims to keep me on my toes… that is if I am still able to function afterword.
Tomorrow is Fat Friday and I can tell you that it will be very similar to last Friday. As I came into work this morning the scale read the exact same thing as it did before. Of course I know that those topless pictures will keep you coming back for more no matter what the weight change might be.