Not that I've gone lately, but every time that I work out I get a craving for Taco Bell. There is just something about that grade F beef smothered in cheese and sour cream that hits the spot after an intense workout session (such as walking for an hour straight). I understand that my body is craving nourishment, but I have no idea why it constantly wants to run for the border. Maybe it's my body refusing to let go of the cushion is has grown to know and love or maybe I am simply just that fat that I can't stand to not eat what is obviously awful for me. Either way, there is nothing better than a supreme steak chalupa meal with a large diet Pepsi to melt away the aches and pains of exercise.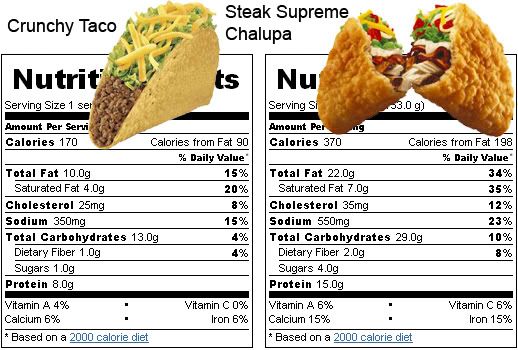 As you can see, eating this meal piles on another 910 calories to my daily diet.

Good thing for me I don't get an order of cinnamon twists or a caramel apple empanada for dessert… I think about it and almost never get one… or both… almost never.




Calorie Count gave the steak supreme chalupa a D+. That's almost average, so it can't be that bad for you. Right?