Another Friday, another time to jump on the scale and see just how fat is Fritz. A friend of mine told me that the weights I have been posting aren't exactly accurate since I am fully dressed every time that I measure my weight. I get strange enough looks from the shipping department when I hop up on their pallet scale with my clothes on… But let's move on to the weigh in shall we?
Woo-hoo! I dropped a whole 1.6 lbs. this week which is still three pounds shy of the first goal I set over twenty-one days ago. As you can see I am really barreling through those pounds to hit that goal. With that said, Steph still thinks that I have been slimming down but I still maintain my stance about her being my wife and having to be a positive motivation for me. Take a look for yourself.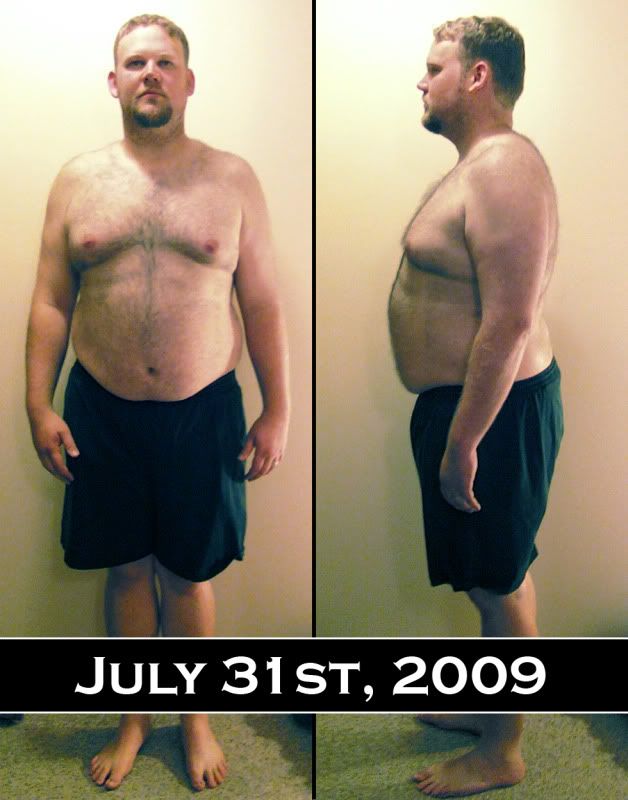 So with only one week left before the big day I have lost a total of 2.6 lbs. in less than a month. With all sincerity, that is awful. Of course it doesn't help that I eat three hot dogs on pretzel buns covered in chili and cheese sauce for lunch or the fact that I have only had maybe two or three legitimate workout sessions for the past week and a half either. No matter how you look at it, the final day is coming and I will have to go through with it no matter how much I weigh.
Speaking of the Cicero triathlon, I got a message in my email yesterday giving me some interesting information about the upcoming event. Below is a portion of what I received.
Blue/Green Algae:
As some of you have heard by now, the Indiana Department of Health has issued a warning about blue/green algae (it sounds pretty, doesn't it?) for Geist Reservoir and Morse Reservoir. I have attached the Press Release. I am awaiting word from the IDOH specifically how this may impact the Triathlon. In the meantime, we are proceeding with having a swim portion of the triathlon. I am working on getting hoses available for anyone who wants to rinse off after exiting the lake. The showers in the pool house will be available as well. If we must cancel the swim portion, we do have a plan in place to change to a run-bike-run event. We hope we do not have to take that action, but wanted you to know that we are prepared.
My first reaction went something like this, "A RUN-BIKE-RUN! HOW DO THESE PEOPLE THINK THAT RUNNING IS EQUIVALENT TO SWIMMING? THE SWIM AND THE BIKE ARE THE TWO THINGS THAT I KNOW I CAN DO! I CAN BARELY WALK THREE MILES! HOW CAN THEY ADD MORE?"
I then looked up the press release that was attached and read exactly what this algae does to a person. Apparently if it comes in contact with your skin you get some rash and if you swallow it then you can get some pretty serious gastrointestinal illness. Rashes can be cured with skin ointments and rubs and anybody who has had the pleasure of being the next in line after me at a public restroom will tell you that I've already got some gastrointestinal problems. Hopefully they continue on with the swim and don't make us run the distance because I don't know if I could handle that right now.
On another note, the national weather service is predicting a warm day with an eighty degree high with scattered thunder storms for race day. WONDERFUL! First algae and now storms. Lucky for me this is Indiana and the weather changes constantly… not to mention that meteorologists are almost always wrong when trying to predict weather that far in advance, especially in the Midwest. Only one week left to go!