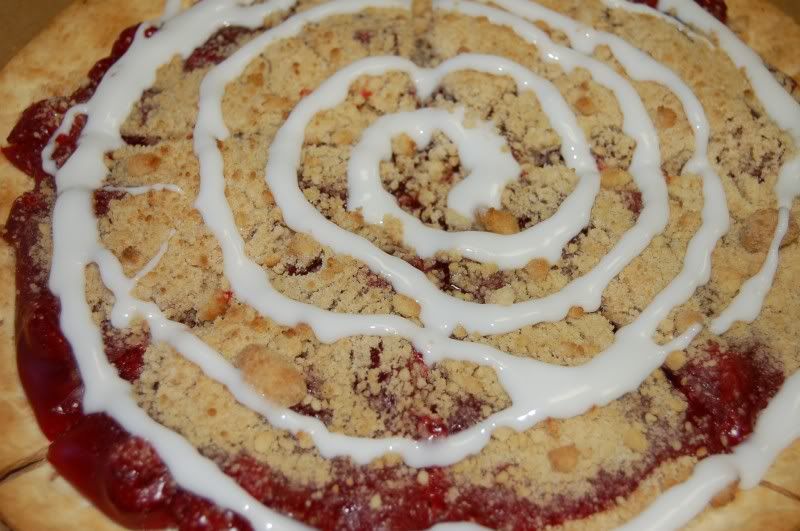 I don't know if my love of pizza stems from my infatuation with the Ninja Turtles or if it just my fat side loving a food that condenses meals into edible slices, but there is no doubt that I thoroughly enjoy a well made pizza pie. Thin crust, hand tossed, deep dish… I love every one of them. In fact I would say that pizza is in the top ten list of foods that have assisted in my fatness. Is it my fault that thin crust pizzas are so thin that eating three pieces is technically just like having only one?
The only thing that can make eating pizza better is getting it at a pizza buffet. Have a slice of buffalo chicken followed by a deep dish supreme and keep on going with a thin crust veggie… the options are endless. Not only do pizza buffets offer up a multitude of regular pizza options, most of them include some sort of dessert pizza as well. Forget tomato sauce, meat and cheese, I want a cinnamon sugar crust with cherry pie filling topped off with cinnamon crumbles and smothered with icing.
Buffets of any kind can be very dangerous for a man who loves to eat, but they can also aid in training for events of gluttony. A while back, a co-worker of mine had decided that he was going to participate in a local pizza eating contest. Not having been in such an event before, a group of us decided that it would be best to have a contest of our own so that he wouldn't go in not having some experience under his belt. The details are rather hazy and others seem to remember me eating more than I think I did, but after about twenty slices my co-worker headed out to the parking lot to purge while I continued to eat my delicious dessert pizza, and breadsticks, and a couple more slices of dessert pizza…
If you have been following the facebook group you know that even during my triathlon training I have indulged myself with a few slices of this delicious food. In fact, while we've been painting and getting our new house ready, Steph and I had Hot Box Pizza deliver right to our front door. Nothing satisfies at the end of the day like a supreme pizza on whole wheat crust. Now I just have to double up my exercise tonight to work it all off.